EBSCO A-Z, e-Journal Finder and Full Text Finder (Automatic Sync and Manual Upload)
Automatic Sync (for subscribing libraries)
Third Iron and EBSCO work together to automatically sync holdings for our mutual library customers.  If you use EBSCO A-Z or Full Text Finder and would like auto-holdings please contact us at support@thirdiron.com and we would be happy to coordinate with EBSCO to set this up for you.  Note that it takes about a week on average to receive your first file.

Below is information for manually doing this same process in case that is desired for your particular circumstance.


Manual Upload

Subscriptions are setup by using actual library holdings.  Third Iron recommends updating these holdings on a quarterly basis or whenever you have a known significant addition/loss of content to your library to help keep your holdings accurate.  Updating your holdings typically takes less than five minutes.

Current A-Z System Procedures (If this does not look familiar, please consult the LEGACY instructions further down the page)


In the EBSCO admin, select the "Holdings Management" tab and the options as shown in the screenshot below.  These include the following options:


Format: Tab Delimited

Resources: Managed and Custom

Resource Types: Journal, Newsletter, Report, Proceedings and Newspaper.
Below this screen is an option to name the file, and then download it.

Once you have this file downloaded onto your computer, please ZIP the file and upload it using the BrowZine holdings uploader here:
http://www.thirdiron.com/upload
by following the instructions provided.
We will notify you when your holdings have been loaded for your library.
LEGACY A-Z System Instructions
EBSCO A-Z the procedure is simply to use the Download Collection feature.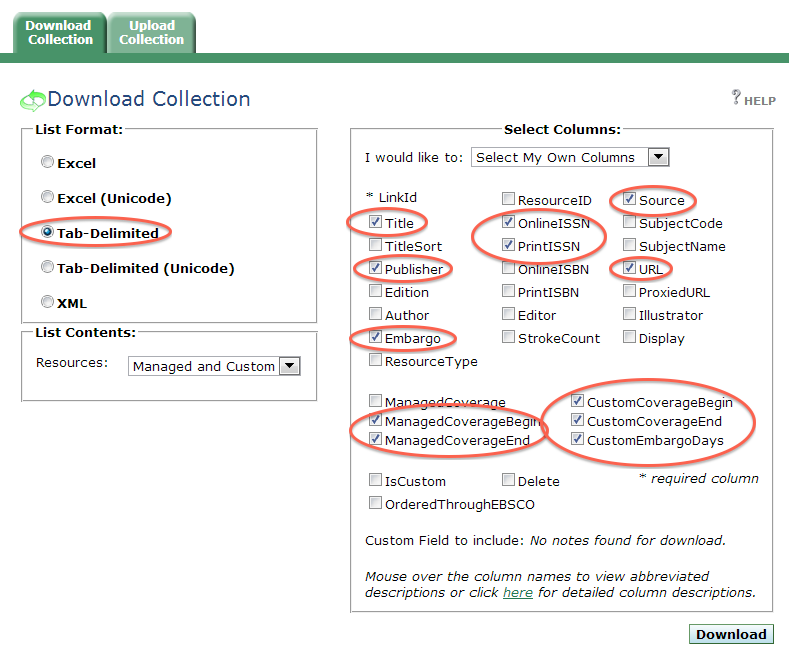 Please select the options as shown highlighted above:
List Format: Tab-Delimited
Title
Publisher
Embargo
Online ISSN
PrintISSN
Source
URL
ManagedCoverageBegin
ManagedCoverageEnd
CustomCoverageBegin
CustomCoverageEnd
CustomEmbargoDays
Then, click the download button. Please do NOT open the file once it has finished downloading.
Next, ZIP the file to reduce its size.  As these are text files they tend to shrink pretty dramatically with compression easily clearing the 30MB maximum upload file size.

When finished, please visit the holdings upload page to upload your holdings document to us.  
We will notify you when your holdings have been loaded for your library.