Alma (One-time manual export)
Use these instructions to manually export and upload your Alma holdings file for BrowZine.

Current BrowZine Subscribers - we highly recommend you use the automated process, which transmits your file directly from Alma to our SFTP server. This requires a simple, one-time SFTP setup within Alma. You may find the instructions for doing so by clicking on the following link: 

http://support.thirdiron.com/knowledgebase/articles/318081-alma-partially-automated-ftp-upload

To instead proceed with a one-time manual file export and upload:

1. Go to Admin -> Manage Jobs and Sets -> Run a Job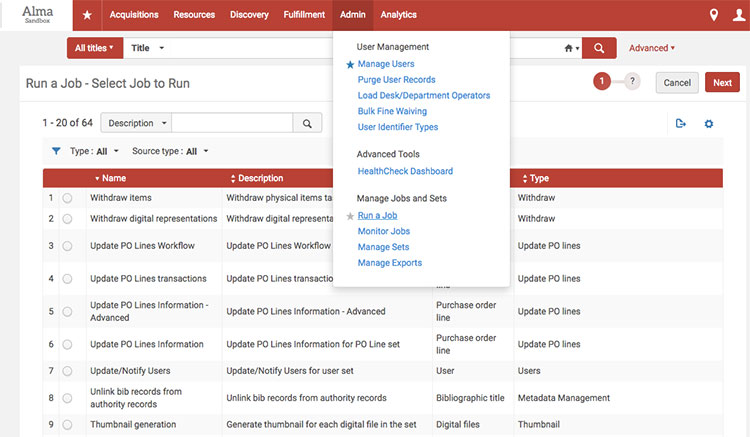 2. Select "Export Electronic Portfolios"
3. Select the previously defined/named set*


* Note that the above illustration is a sample only.  This Alma customer created a custom set and named it "eJournals".  If you have not created a similar set, the recommended parameters when defining the set are:
"Electronic Titles where All titles (Material Type equals "Journal")"

You can find detailed documentation on how to manage Sets here:
https://knowledge.exlibrisgroup.com/Alma/Product_Documentation/Alma_Online_Help_(English)/Administration/070Managing_Jobs/Managing_Search_Queries_and_Sets

4. Configure the Export Task Parameters
When given the screen of options below please choose the options as seen in the screenshot below:

Field Listing (text description of the graphic above for clarity)

Output Format: Google Scholar XML schema

Number of records in file: One File

Export into folder: Private

FTP / sub-directory (leave blank)

Add interface name (CHECK this box)

5. Review and Confirm




Review all details and click Submit to export and download the XML file.



6. Zip and upload the file to our Web server
Take the resulting XML file that you eventually download and save it to your desktop.  ZIP this file to compress it and make it much smaller.

Go to thirdiron.com/upload and fill out the form and attach the zipped XML file. We would appreciate if in the "Institution Name" field you append "ALMA" to it (for example: "Purdue University ALMA") to help our team quickly process your holdings.
Automated Exports for Alma
Current BrowZine Subscribers - we highly recommend you use the automated process, which transmits your file directly from Alma to our SFTP server. This requires a simple, one-time SFTP setup within Alma. You may find the instructions for doing so by clicking on the following link:

http://support.thirdiron.com/knowledgebase/articles/318081-alma-partially-automated-ftp-upload